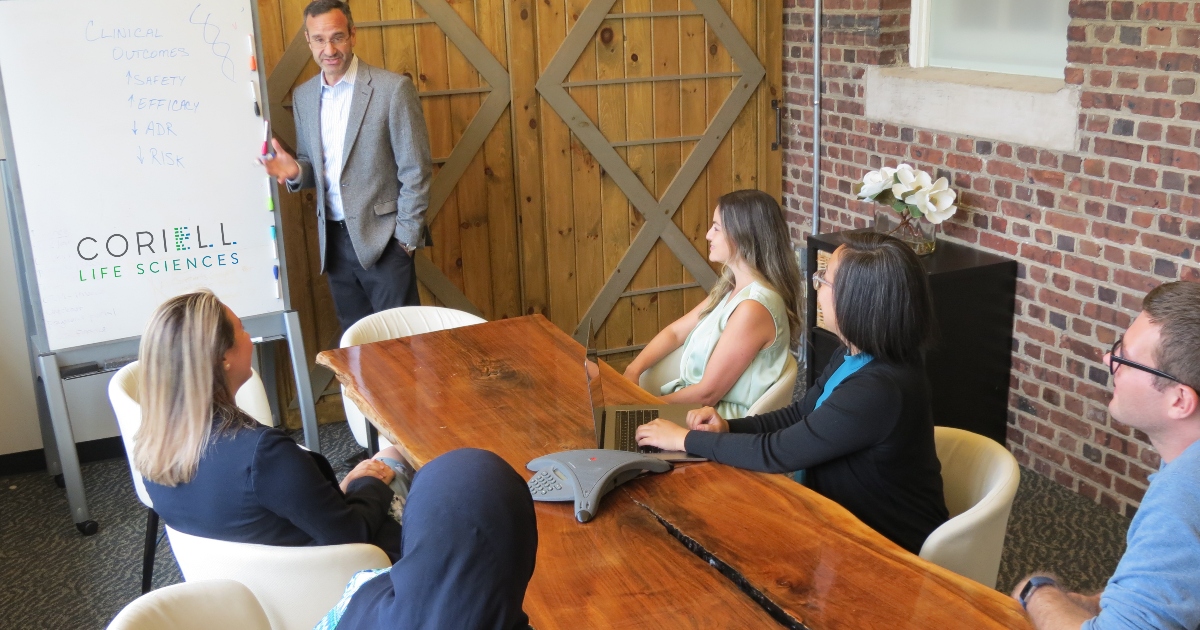 Meet Precision Medicine Company Coriell Life Sciences
New
Precision medicine company Coriell Life Sciences strives to tailor treatment plans based on patients' unique genetic makeup.
---
"NextUp" is a weekly article from NextHealth PHL that highlights local leaders, organizations and research shaping the Greater Philadelphia area's life sciences ecosystem. E-mail [email protected] with slots for NextUp.
Who: Since 1953, the Coriell Institute for Medical Research has worked to understand, prevent and cure genetic diseases through biomedical research. With a focus on biobanks, personalized medicine and stem cell biology, in 2013, the Camden-based nonprofit created a for-profit spin-off company – Coriell Life Sciences (CLS) – focused on interpretation and implementation of genomic information to strengthen prescription drug choices.
What: Based at Navy Yard, Coriell Life Sciences (CLS) is a precision medicine company that uses genetic science and research to improve patient care and reduce healthcare costs. Specifically, CLS helps healthcare providers and pharmacists tailor treatment plans based on patients' unique genetic makeup. To do this, the company uses pharmacogenomics (PGx) – the study of how genes affect an individual's response to drugs – and proprietary bioinformatics technology to ensure that patients only take drugs that work. for them, improve the effectiveness of drugs and reduce potential toxicity.
What this means: According to the CLS team, the success of treatment with many prescription drugs is directly linked to an individual's DNA, as natural variation in the genetic code can cause the same drug to produce different effects on people. In the USA, medication errors contribute to the number of preventable health care-related deaths each year and the cost of medication matching errors exceeds $ 40 billion. Knowing that genetic variations may explain why certain drugs work on some patients and not others, CLS is able to speed up the return of healthy patients while minimizing the risks and costs associated with prescribing drugs.
"By examining DNA variations and quantitatively assessing whether or not certain drugs will work for certain patients, we are able to turn the collected data into real-world information," said Scott Megill, President and CEO by CLS. "Our Drug Risk Management program collects patient genetic information and guidance from the FDA, CDC, and American Medical Association so that our pharmacy team can provide physicians with a comprehensive view of their patients' needs. depending on factors such as drug interactions, age-related factors. , and lifestyle choices. Basically, at CLS, we want to make sure that the pills that patients take are physiologically correct for them. In turn, says Megill, this cuts healthcare costs because less money is spent on pills that don't work. [for certain patients], which can often be a sort of trial and error prescription process.
Why it matters now: Due to the coronavirus pandemic, there has been a increased mood disorders, so much so that the number of prescriptions filled per week for antidepressant, anti-anxiety and anti-insomnia medications increased by 21 percent between mid-February and mid-March 2020. According to CLS, many of these drugs have strong pharmacogenomic impacts, meaning that their effectiveness depends on an individual's DNA. Megill says that CLS's work is especially important for this reason: because it helps reduce processing time and any economic burden the healthcare industry may face from COVID-19.
In addition, CLS has launched a "Return to Operations" program that helps businesses determine how, who and when to test for COVID-19. The program, which relies on CLS interpretation and reporting based on demographics, lifestyle factors and real-time modeling, allows employers to determine when to reopen, understand which employees are most at risk. , reduce the risk of business disruption and create a plan of action if someone is positive.