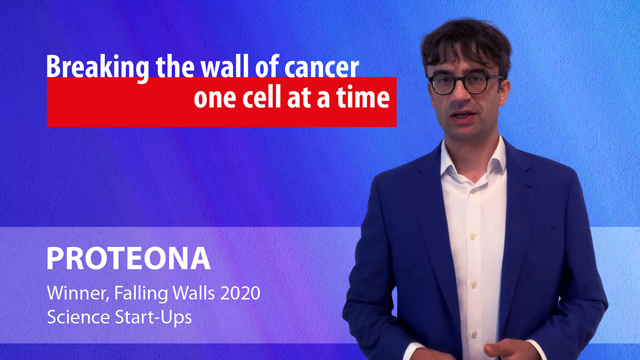 Singaporean single-cell precision medicine company 'Proteona' wins start-up award
Proteona has been selected as one of the ten winners of "Falling Walls Breakthrough of the Year 2020" in the category of scientific start-ups
Singapore single-cell precision medicine company Proteona was selected as one of the ten winners of Falling Walls Breakthrough of the Year 2020 in the Scientific Start-ups category. Proteona uses a powerful research tool, single-cell multi-omics, in clinics to improve precision medicine.
Proteona, as part of its cancer treatment approaches, collects tens of millions of data points per patient sample on important characteristics including mutations, mRNA expression, and protein expression. Proteona then uses artificial intelligence to integrate the data and craft a plan to kill as many cancer cells as possible.
"One of the main applications of our technology is in the field of blood cancers. We have seen firsthand the battles that patients have gone through and these patients have touched us deeply. The choice of treatment is a major challenge, especially in cases of relapse. By analyzing the molecular characteristics and drug response profile of individual cells, Proteona can suggest treatment plans that best target the unique tumor makeup of each patient, "says Dr Andreas Schmidt, CEO of Proteona.
Earlier this year, Proteona was selected as "One to Watch" in the Fallout Price by Nature Research in partnership with Merck.
An interview with Proteona aired on November 6, 2020 by Falling Walls, followed by a interactive question-and-answer session with participants from all over the world.
The presentation video of Proteona is available on the Falling Walls Remove 2020 website, which is why Proteona has embarked on the mission to break the cancer wall, and how they are going to do it. It talks about
– The current challenges of targeted cancer therapy and precision medicine
– Why the heterogeneity or diversity of tumors makes cancer so difficult to treat
– How we approach the problem by combining single-cell multi-omics and analysis assisted by artificial intelligence
– What we do to help patients with multiple myeloma and other cancer patients.
– Our plan to break the cancer wall, one cell at a time
The Falling Walls Conference is one of the world's most important science summits and highlights the latest scientific and social advances. It first took place on November 9, 2009, 20 years after the fall of the Berlin Wall. Since then, it presents the best innovations in all scientific fields around the world, showing how innovation can have a positive impact. The Science Breakthroughs of the Year at Falling Walls celebrate exceptional science with the potential to change the world. This year, over 900 nominations from 111 countries were received for ten categories, which are: Life Sciences; Physical science; Engineering and technology; Social and human sciences; Sciences in the Arts; Digital education; Science and innovation management; Emerging talents; Scientific start-ups and scientific commitment.